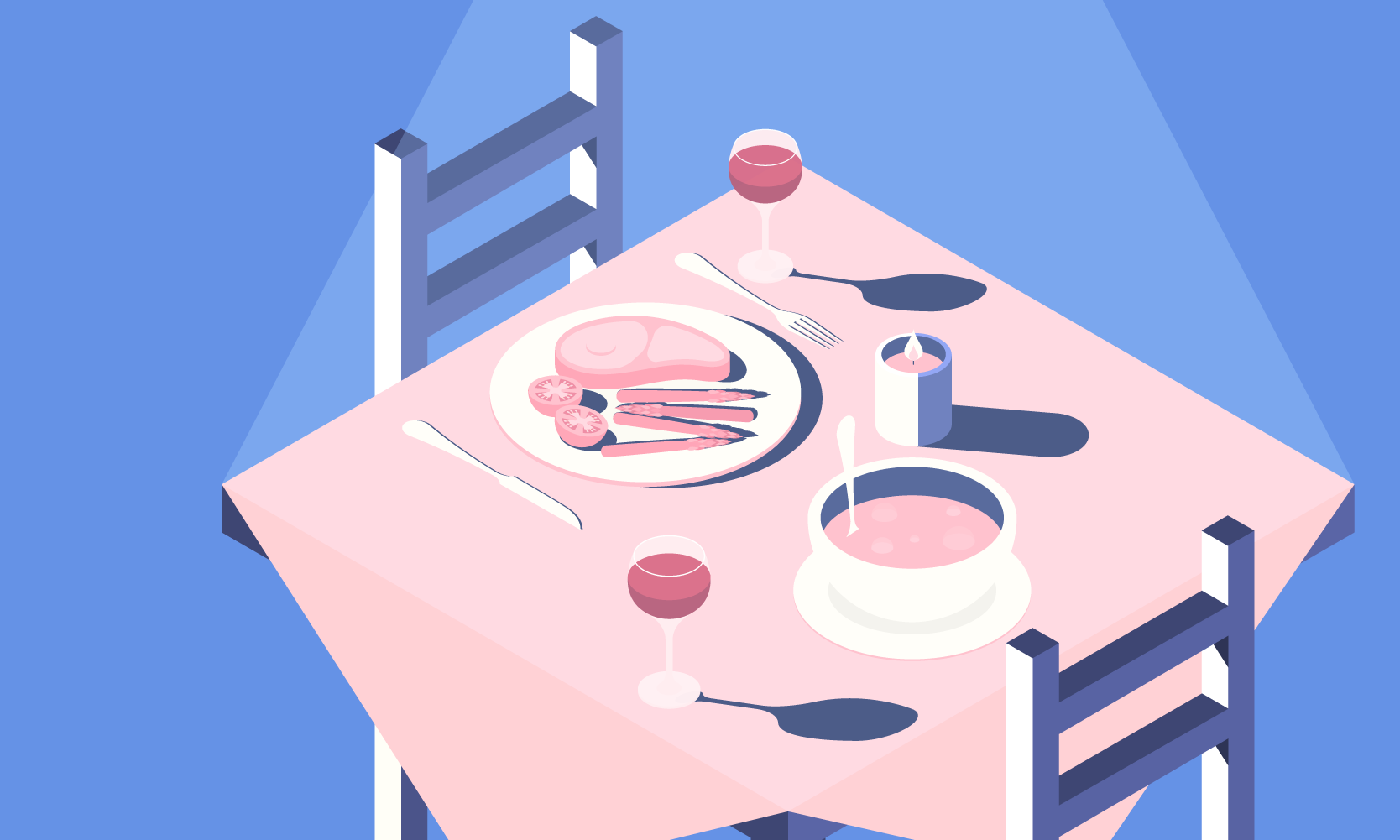 Romantic Dinners in Edinburgh for Valentine's Day
With Valentine's Day just around the corner, why not push the boat out and take that special someone for a wining and dining experience in the Scottish capital. Wondering where to go? We've done the hard work for you.
Here's our take on where to impress your date and enjoy a romantic dinner in Edinburgh:
Forage & Chatter
Impress your date with some traditional Scottish fare at Forage & Chatter. Alongside the decent craic (the chatter), is a range of locally-sourced (and often foraged) classical grub.
Top-end of the price range admittedly, but you are paying for good quality nosh. The wild halibut, spelt, chanterelles and sea veg is a must.
1A Alva St, EH2 4PH (forageandchatter) 
 

 

 

View this post on Instagram

 

 
The Honours
Dine here and you'll have the honour (see what we did, heyoo!) of eating at a brasserie owned by the Michelin star chef Martin Wishart. A French-style bistro without the faff, sitting down to a two-course express lunch will set you back 20 quid.
Being French, this is a meat-lovers paradise and you can tuck into a variety of juicy steaks ranging up to £70, as well as a variety of deer, lamb and fish dishes. Check out the interestingly titled Crab Cappuccino.
58A N Castle St, EH2 3LU (honours) 
 

 

 

View this post on Instagram

 

 
Divino Enoteca
Kick back in this romantic Italian restaurant meets wine cellar: Divine Enoteca. This Old Town favourite boasts a fabled history of award-winning wine selections, and what's more Valentine's vibes than a good glass of red?
Divino oozes class, and is fairly priced to boot. A reasonably hefty pasta dish will cost you under a tenner, meaning you can enjoy a great date without breaking the bank.
5 Merchant St, EH1 2QD (divinoentoeca)
 

 

 

View this post on Instagram

 

 
The Grain Store
Hanging out above the bustle of Victoria Street is this window into Scottish heritage. A cosy, no-frills environment beckons courtesy of the vintage decor and intimate charm.
With 25 years experience under their belts, The Grain Store has been provided Edinburgh's populace with romantic, candlelit dinners since the '90s.
30 Victoria St, EH1 2JW (grainstore)
 

 

 

View this post on Instagram

 

 
Locanda de Gusti
Bringing the flavours of Southern Italy to the streets of the capital is Locanda de Gusti. A stalwart of the Edinburgh foodie scene, this popular Italian pad is chock full of sumptuous seafood dishes and piles of fresh pasta.
An intimate venue that places traditional cooking at the heart of everything they do, you can expect these recipes have been passed down through generations to arrive at your plate in the heart of Edinburgh's hipster area.
102 Dalry Road, EH11 2DW (locandadegusti)
 

 

 

View this post on Instagram

 

 
Number One at the Balmoral
If you've got a bit of cash to spare this Valentine's, then you can't go far wrong with a booking at Number One and The Balmoral. Set in one of the city's finest hotels, this is ultra-suave fine dining at its very best.
Sure, it doesn't come cheap and might not be the best option if you're deep into student loan debt, three courses of deliciousness will set you back £85 a head.
However, the food is amongst the best you'll find in the capital, with the current menu sporting fresh takes on Scottish classics.
1 Princes St, EH2 2EQ (roccofortehotels) 
 

 

 

View this post on Instagram

 

 
La Garrigue
A little slice of France in the heart of Edinburgh, La Garrigue is a charming little spot that offers up rustic French flavours in a cosy and intimate setting.
Featuring the cuisine of the Languedoc wine region, the restaurant comes with the backing of a range of awards and a certain Gordon Ramsey (it's allegedly his favourite French bistro in the UK).
Decently priced, there isn't anyone that does romance quite like the French.
31 Jeffrey St, EH1 1DH (lagarrigue)
 

 

 

View this post on Instagram

 

 
The Witchery
The Witchery is set in wonderfully atmospheric environs, nestled deep in the historic surroundings of the Royal Mile, a stones-throw from the iconic Castle.
Kitted out in grand fare that wouldn't look out of place in the interiors of the royal Castle itself, The Witchery has been attracting hungry folk since the late '70s. One of Auld Reekie's most notable eateries, the food is classically Scottish (and therefore rather meaty) and worth parting with a little extra moola for.
352 Castlehill, EH1 2NF (thewitchery)
 

 

 

View this post on Instagram

 

 
A Local's Eye View
Get the 'local low-down' on Edinburgh with insight into great things to see and do, as well as recommended places to eat, drink and dance in Scotland's stunning capital.
Daily Highlights Roundup
A seamless week's feed of content, providing daily choices of restaurants, attractions and events in Edinburgh, as well as a comprehensive spotlight on the best upcoming high-profile concerts, productions and more.
Book Through The App
Discover and book tables, takeaways, tickets, hotels, taxis and more in 'Auld Reekie', all in the same place without leaving the app, or create and share plans to help maximise your time with friends.